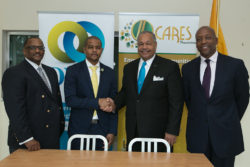 May 3, 2016
NASSAU, Bahamas – The IL Cares Foundation announces the winners of their OWN Bahamas Entrepreneurship Program as well as the Scholarship Fund Program which will launch today for eligible Bahamian students in both high school and college.
OWN Bahamas launched their 2nd annual entrepreneurship program on January 28th, 2016 offering opportunities to Bahamians who have new and exciting ideas within existing or new industries. Our mission is to assist these individuals with financial support, mentorship, and business education that will allow them to run a successful business.
The program was open to all legal and eligible Bahamian citizens and the applicants were required to provide a Brief Bio and Business Plan including an outline of their goals and aspirations. The OWN Bahamas selection committee then reviewed all applications and selected the final candidates as the grant recipients.
$25,000.00 Grant Awardees
Kwivan Miller, Bahama Bar-B-King wished to own and operate a Gourmet Food Truck. Mr. Miller has a popular following offering specialty BBQ, unique dishes and catering services. He currently works from his home kitchen and is looking to expand by using the mobile unit at various locations and specialty events.
Christine Wilson who wants to set herself apart by owning and operating a Mobile Spa & Salon for busy professionals who can "come to you" for all services. A fully functioning mobile salon which will be the first of its kind in the Bahamas offering services including Massages, Hair, Nails etc. The unit will also be used for weddings and specialty events.
$10,000.00 Grant Awardees
Selima Hauber, Field to Fork Community Farm who currently provides locally grown fruits and vegetables to various farmers markets and festivals but wishes to open an additional small food processing factory and retail site to expand on their organic food products including probiotic beverages and other organic food items based on the vegetables grown on their farm.
Tamarind Burrows-Isaacs, Brer Bookie Meat Co. who produces natural, hormone free, locally produced, hand-made sausages using organic, locally farmed meats. The Husband & Wife team currently operate from their home kitchen and retail the sausages at the local farmers markets and various festivals. Their dream is to expand the company and open a butchery and packaging house for locally produced meat.
Cicely Bethel, The Lemonade Stand already quite popular and have a large following for their line of lemonade drinks made with locally produced limes. They have recently expanded to produce local herbs and spices and also now offer food items such as Roti and Curry. They currently have one retail location but wish to operate a mobile unit and mobile concessions which will be located at various hotspots around the island including tourist areas and specialty events.
Ryan Ferguson, MGM Scapes Landscaping, Inc. has been working since the age of 14 and has educated himself through research and online programs to one day own his own business.
Kody Conyers, Aspiring Sketch Artist