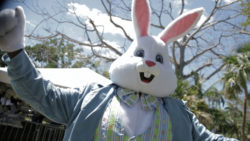 March 28, 2018
Hundreds of bright-eyed children flocked to the Botanical Gardens Saturday afternoon for the IL Cares Foundation's (ILC) premier Easter Egg Hunt.
The youngsters were greeted by the Easter Bunny who presented them with treats and lead them to into a world filled with games surprises and excitement.
Michelle Fox, marketing manager for the IL Cares Foundation said the foundation wanted to make bring fun back to children, who otherwise may not have gotten anything this Easter.
"As everyone knows here at the IL Cares Foundation, we are all about the kids… we have the Back to School, event and our kid's carnival and this year we decided to add in an Easter Egg Hunt to offer something for the kids," she said.
"We have Easter baskets, foods, the Easter bunny and of course an Easter egg hunt. The kids are having wonderful time in the bouncing castle and of course they are excited about the hunt and that is why we do this, to out a smile on children's faces."
Fox said the foundation has many more events planned for the rest of the year.
"In the coming months, we have our back to school events that's coming up in August that event caters to a couple thousands of children where we offer school supplies," she said.
"It's a fun day of activities for the kids and also for the less fortunate. Not always do parents have the funds to get back packs, to get their book, pencils and pens, that's what IL cares Foundation is all about. We are there to fill in the gap, where some persons may be having a hard time and struggling, that's why we are here."
Established in 2014, the Island Luck Cares Foundation (ILC), The IL Cares Foundation (ILC) has now become the sole source of Island Luck's charitable works and the continued goals and efforts of Island Luck will be realized through the successful economic empowerment programs of the ILC.
The goal of the charity is to bring awareness and community support to the socioeconomic needs of The Bahamas and its people. Its efforts are centered in the areas of education, economic empowerment and entrepreneurship, wellness and social responsibility, and health and environment.