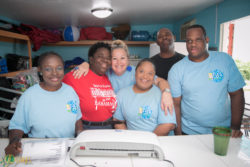 January 18, 2018
Back in May 2015 The IL Cares Foundation sponsored $50,000 to The Bahamas Down Syndrome Center to assist in renovating a building on their property to turn it into Ty's Place, a deli and thrift store where all the kids and adults from the centre would help operate.
Fast forward to Janaury 2018 and Ty's Place is open for business!
The Deli is named after Ty Bethel who lost his battle with Leukemia. We were so excited and proud to contribute to this project!
Gallery